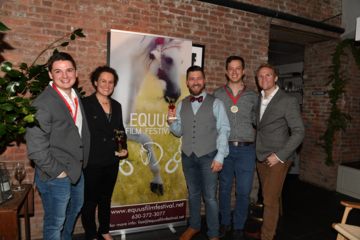 Desert Flight takes top honors at EQUUS Film Festival in New York City
'Desert Flight' was selected as Best of Festival as well as Best Sports Documentary from more than 40 U.S. and International entries in the annual festival which showcases equine themed films in all lengths and genres. The honors were presented during the Winnie Awards Ceremony on the final evening of the festival which took place in the theater at the Wythe Hotel in Brooklyn.
Produced by Tell Studios in association with Samia Staehle's Filter 4 Productions, the 39-minute documentary is a compelling look at the horses and riders that compete in this highly demanding sport. Executive director, Staehle, who competes herself, wanted to show the drive that it takes to be the best in the sport, and the compelling bond that is the only way to make the horse andrider team successful in competition.
New to the equestrian scene, producer Ryan Koral and his team from Tell Studios were in attendance to accept alongside Staehle. Koral and director John Azoni and editor Grant McClure shot the picture mostly in Thermal, California in the weeks leading up to the HITS Million Dollar Grand Prix. They then took it back to their studio near Detroit, Michigan to be cut. None had spent significant time at a horse show prior.
The major subjects of the film include top Grand Prix Show Jumping riders Richard Spooner, Rich Fellers, Ashlee Bond, Mandy Porter and Olympic Gold medalist Will Simpson. Their stories of how horses have inspired and motivated them to succeed were so touching that even the 'non-horsey' crew from Tell found themselves falling in love with the subjects and the horses.